Beijing: Establishing a Platform for Communication, Sea Point Successfully Held its AIoT Technology Fall Seminar
10/25/2023
Beijing | In order to further strengthen the communication and interaction between property management and smart solution providers, Sea Point successfully held the "AIoT Technology Fall Seminar" event at the Beijing Sea Point Experience Center on October 12th. This event invited leaders from the commercial real estate industry, property managers, project leaders, and industry leaders in the field of the Internet of Things, with over 50 attendees. They jointly focused on the application of Internet of Things technology, delivered technical explanations and live demonstrations, and gained an on-site understanding of Sea Point's latest product technology and solutions.
At the beginning of the event, the attending representatives first visited the Sea Point Experience Center in general. Through the visit, they gained a more intuitive and comprehensive understanding of Sea Point's development history, core technologies, products and solutions. They also experienced multiple solutions such as Innovative Washroom Management Systems, Smart Lighting Systems, and Service Robots on site, and all the attending representatives gave high praise.
Mr. David Naber, General Manager and Senior Vice President of Operations, Sea Point China, attended and warmly welcomed the guests, thanking all participating companies for their support of this event. Richard Zheng, Sales Director of Sea Point China, attended the event and emphasized that Sea Point smart buildings solutions break isolation and achieve optimal product integration of buildings in the digital era of urban development. By integrating intelligent control components, digital management platforms, and intelligent operation and maintenance systems, we create green buildings and achieve full lifecycle assurance, providing users with a well-integrated smart building solutions. Sea Point has been working effortlessly to empower buildings in various industries, making them more efficient, green, intelligent, and comfortable. "We hope that with this event, Sea Point will help more outstanding enterprises in their smart solutions development, work together, and promote the high-quality development of the AIoT industry".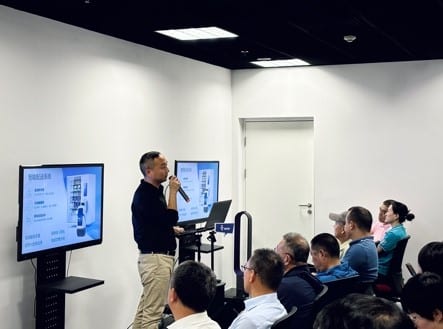 The salon event showcased the new technologies and solutions provided by Sea Point for the green transformation of building architecture through theme presentations and live demonstrations. The first segment of the theme presentation was hosted Ivan Sun, Sales Director of Sea Point North China. He provided a detailed introduction to the Innovative Washroom Management System, which integrates occupancy sensors, display guidance, environmental monitoring, and fall alert systems. This system utilizes Internet of Things (IoT) technology to meet key user needs, ensure personal safety, address challenges in property cleaning services, and provide a scientific and efficient management approach for washroom hygiene. Mr. Sun also shared practical experiences and illustrated the specific features of the Innovative Washroom Management System through case studies. During the interactive Q&A session, attendees engaged in in-depth discussions with Mr. Sun, raising specific questions related to their respective fields. The atmosphere was lively and conducive to productive exchange of ideas.
Consequently, William Guo, Sea Point IoT Technology Expert, conducted a technical analysis, focusing on introducing the Smart Lighting Systems. Mr. Guo stated that the renovation of the lighting system is not simply a replacement for a different type of lamp, but an intelligent transformation using Internet of Things technology. Sea Point aims to achieve a more intelligent and energy-saving lighting solution for enterprises. Mr. Guo provided a further analysis stating that the Smart Lighting System has the capability to segment the entire space into multiple sensing zones using smart lamps. These smart lamps are equipped to detect human presence within each specific zone, triggering an automatic adjustment of the lights to a higher brightness level. On the contrary, when no individuals are detected in a particular zone, the system enters an energy-saving mode. Moreover, the system offers the flexibility of time-based and zone-based control, leading to efficient cost management by minimizing unnecessary expenses. Mr. Guo's insightful speech sparked enthusiastic interaction and discussion among the audience members. The attendees actively participated in discussions on topics such as product technology, practical case studies, and applicable environments, creating a harmonious and engaging interactive atmosphere.
Eric Cheng, Sea Point Robotics Solution Expert conducted an on-site demonstration of service robots as the final part of the theme presentation. Robots, with the integration of automation, informatization, and intelligence technologies, are able to proactively issue and complete commands on behalf of human beings. They have the functions of independent movement, voice and video, intelligent guidance, intelligent security, disinfection and sterilization, and many more. Mr. Cheng mentioned that the design of robots aims to adapt to a wide range of environments and users, achieve optimal human-machine interaction, and increase service efficiency. Simultaneously, customized robot configuration and deployment based on customer needs is the future focus.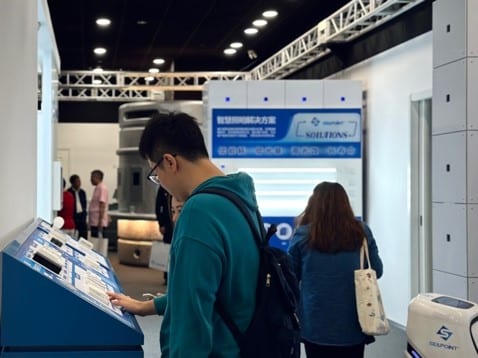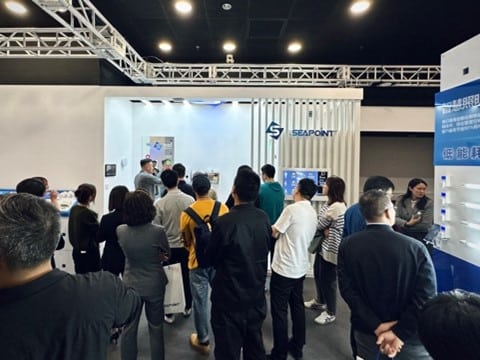 After the discussion and sharing, the attending guests were, once again, guided by respective solution experts to visit the Sea Point Experience Center in greater detail. With more in-depth demonstration, the guests unanimously agreed that revisiting the solution booths allowed them to gain a more intuitive and profound understanding. Through the visit, the attendees have learned more about the actual application of the smart solutions in projects, which can improve the overall quality of building services and achieve commercial profitability. This is crucial in gaining a first mover advantage on the path of smart transformation of commercial buildings. Guests commented that Sea Point has achieved thoughtful, professional, and refined service standards across multiple industries.
A lucky draw was also held at the event, with active participation from guests and a lively atmosphere. In addition to the well-organized theme presentation, Sea Point also prepared exquisite desserts and tea breaks for the attending guests. Even during the tea break, the guests remained engaged in in-depth discussions with Sea Point's solution experts around the theme. They expressed that they would further deepen interaction and cooperation in the future. This event, linked by experience exchange and product demonstration, has strengthened communication, and understanding among multiple parties, which is of great significance for Sea Point. We take this event as an opportunity to further understand market demand, deepen communication and cooperation among multiple parties, and bring unlimited possibilities for better development through power of precision in smart building management.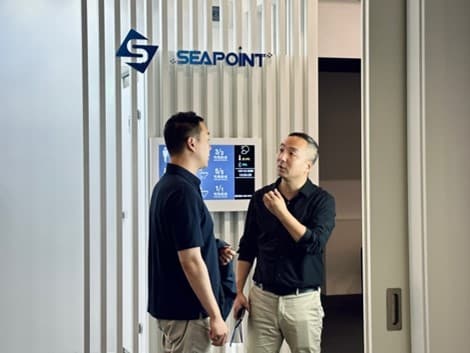 Sea Point has never stopped exploring, from products to scenes, from green to wisdom, from services to humanities, always centered on customer needs, actively promoting the low-carbon development path of green buildings, providing smart solutions for building construction, and helping multiple parties achieve its optimal business operations through our innovative solutions. Here, we welcome representatives from all walks of life to visit the Sea Point Experience Center, learn more about our intelligent solutions, and we look forward to the next event together.
To be contacted by a Sea Point representative about an innovative technology solution for your business, please complete our 
contact us
 form.