Introduction
With the acceleration of enterprise digital development, the traditional conference mode has been unable to meet the current conference needs. Therefore, the "safe, efficient, fast and economical" video conferencing systems with highly productive communication and cooperation methods have gradually become an important means for enterprises. Our cloud video conferencing platform is composed of three elements: "software as a Service (SaaS)", "platform service" and "terminal service" that ensure our corporate customers are able to truly realize the rapidity of remote information exchange. Eventually, our video conferencing systems improve operating efficiency, productivity and competitiveness of the enterprise, laying a solid foundation for its digital transformation.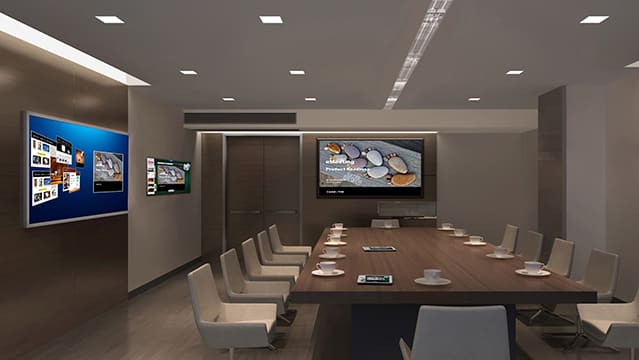 Benefits
Our video conferencing systems help customers:
Effectively reduce the manpower and resources required for organizing meetings to save time and costs
Solve the problem of the inconvenient transportation for off-site meetings and high travel expenses
Provide more flexibility in meeting participation, anytime, anywhere
Improve interactivity, responsiveness and quality of the conference
Effectively manage participants, distribute meeting documents, and collect relevant data for future analysis
Features
Our video conferencing systems provide the possibility for flexible officing, especially during the post-pandemic era. Whether it is a large-scale conference scene, a medium-sized meeting scene, or a small or personal meeting, it can be used freely. Our cloud conferencing platform solves the problems of complex deployment of traditional video conferences, which requires professional technical personnel to maintain. Simultaneously, they address the lack of video collaboration and instant live broadcast services in the traditional video conferences. Notably, Sea Point provides customized video conferencing solutions that meet the needs of our customers.
Feature Points:
A large-scale conference scene is mainly used for collective training, policy advocacy, and year-end summary. For enterprises with large organizational structure and extensive branch deployment, it greatly meets the needs of high-definition audio and video transmission and intelligent data sharing.
A medium-sized meeting scene adopts a unique lens and high-performance omni-directional microphone. It is equipped with a dual screen display. Participants can have a more relaxed, realistic and excellent meeting experience.
A small or personal meeting scene is generally used for decision-making of smaller group meetings with higher requirements for convenience, rapidity and efficiency. Simply connect the power supply and display equipment, and participants can quickly organize the meeting.
The mobile terminal is mainly designed for users on business trips or a front-line site in order to facilitate access to conferences regardless of location.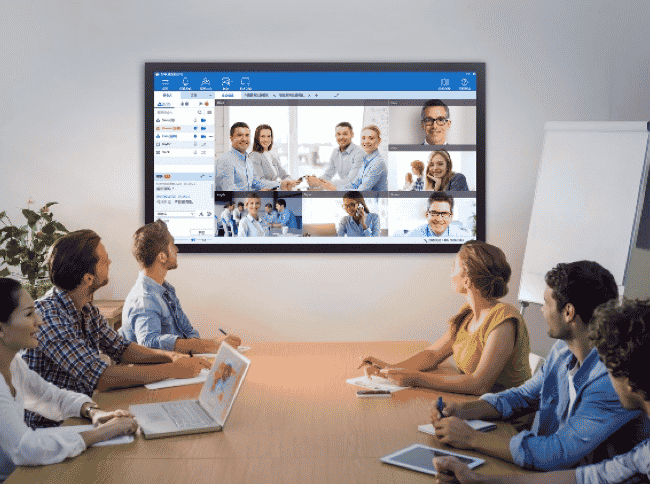 Process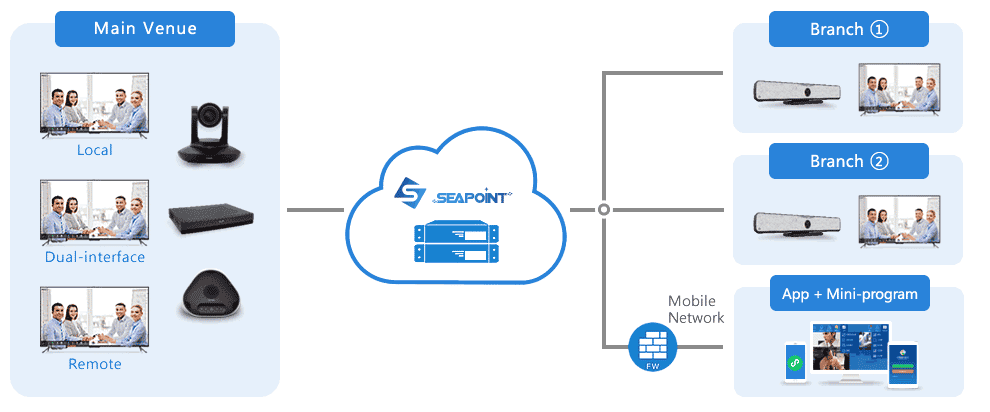 Integration/Application
Corporate Internal Meeting
1. The headquarters does not need to convene branch employees or prepare the venue; effectively arrange regular meetings between the headquarters and sub-offices
2. Multiple project departments from different locations can hold real-time project discussions during project implementation
3. Quality audio and video experiences with immersive presentation, discussion and participation in a natural way
Remote Training and Recruitment
1. Product training for employees and suppliers in different places; onboarding training for new employees in different offices
2. High-definition video images to capture the presenter's expression and status with recording, sharing and archiving functionalities
3. Interviewers can realize face-to-face communication with HR from the headquarters to reduce unnecessary travel
4. Senior management can easily participate in the interviews of different places to improve the efficiency of talent acquisition
Customer Communication
1. Ensure real-time information interaction with customers
3. Focus on seamless interconnection with upstream and downstream suppliers for better relationship management
2. Timely troubleshoot for customers, improve customer satisfaction, and thus enhance the brand image of the enterprise
Emergency Command
1. All departments and command centers could carry out communication, cooperation and deployment, anytime and anywhere
2. Front line personnel can quickly exchange first-hand information with the headquarters to achieve rapid decision-making and servicing
3. The video conferencing systems can be integrated with multiple internal and external devices of the enterprise