Sea Point won Bosch West China 'Gold Medal Dealer'
04/07/2023
Chengdu | The 2023 Bosch Prestige Dealer Conference was successfully held in Kunming in March of this year. In addition to carrying out in-depth discussions and exchanges with industry insiders during the conference, Chengdu Sea Point Commerce & Trade Co., Ltd. (hereinafter referred to as "Sea Point") officially signed a contract to become the Gold Medal distributor of Bosch Intelligent Building Technology Co., Ltd. (hereinafter referred to as "Bosch") in the West China region with the officially awarded license.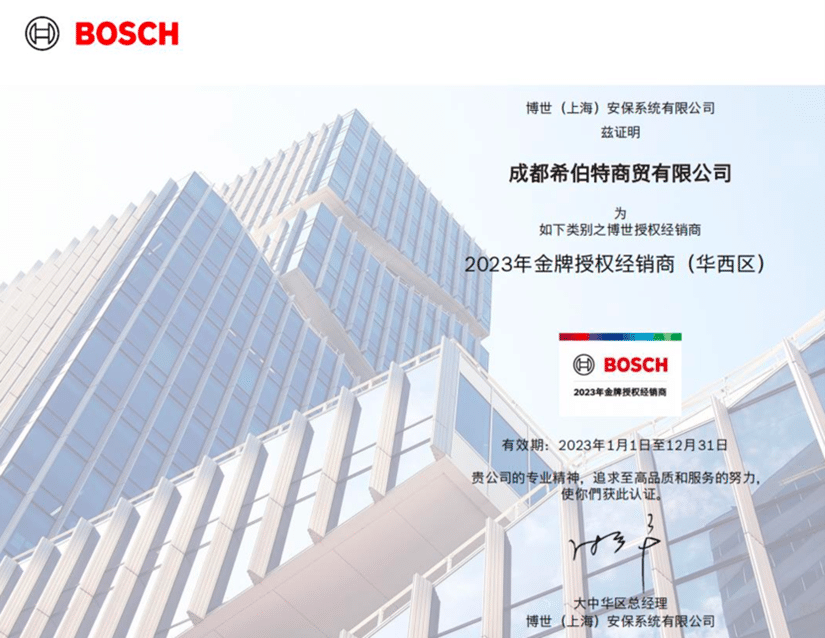 At the conference, the management team of Bosch Greater China expressed their views and sentiment on the development of the industry, as well as their confidence and prospects for partners. Bosch Intelligent Building Technology has a broad product line, covering business sectors such as video surveillance systems, access control systems, and conference systems.  Bosch has always been committed to creating a better life for users with high-quality building solutions, and is committed to safeguarding personal, building, and property safety. The management team also presented to the attending guests Bosch Great China's achievements in key industries, landmark projects, and promotions over the past few years.
Sea Point stands out among partners with outstanding performance and has been awarded the Bosch "Gold Dealer" honor. This honor affirms the technical, professional service, marketing, and holistic solution advantages of Sea Point, which further highlights our strength in demonstrating technological innovation for our customers.
John Studdard, General Manager and Senior VP of Operations of Sea Point China Limited, stated, "Our cooperation with Bosch is a true recognition of the Sea Point brand and a further upgrade of our services. We will strive for working in industry benchmark cases, form brand momentum, and demonstrate our confidence and determination in working with Bosch through intensive cooperation, technical and resource exchange."
After the meeting, Sea Point also conducted in-depth discussions on Bosch's marketing priorities and directions. With our Bosch partnership, Sea Point will gain a deeper understanding of a variety of businesses and continue to provide comprehensive modern and intelligent solutions in order to meet future challenges of our clients. Sea Point will collaborate closely with Bosch's resources and leverage their portfolio of intelligent products to provide diversified support for industries such as commercial buildings, offices, and industrial parks.
Sea Point is committed to providing customers with high-quality services and solutions. Working together to increase the breadth of Bosch brand marketing in west China will allow both parties to expand project promotion opportunities in the industry, and create greater value for customers through our joint solutions, shared resources, and professional and technical expertise. We look forward to further strengthening our cooperation and resource sharing between Sea Point and Bosch in the smart building solutions industry.
About Bosch | Building solutions for a better life. A leading technology and service provider in the world, covering the fields of automobiles and intelligent transportation, industry, consumer goods, and energy and construction technology. For more information, please visit boschsecurity.com.cn