Seamless Performance with Customization
Whether the goal is to create an ideal ambiance or to entice customers to your location through advertising, Sea Point can design a decorative lighting solution that meets the objective. Originally Sea Point focused on implementing LED lighting for high-end restaurants to create different visual interests and impressive bar lighting. Retail customers, as well, had similar goals: to develop a certain ambiance through decorative lighting.
As seen throughout major cities particularly in Asia, LED displays are also effective in advertising and enticing customers to visit. The programmable products allow for a rotation of graphics and easy updates to match current advertising campaigns.
Sea Point has broad experience in sourcing unique and customized fixtures, as well as working with large interior or exterior displays, including LED walls, transparent curtain.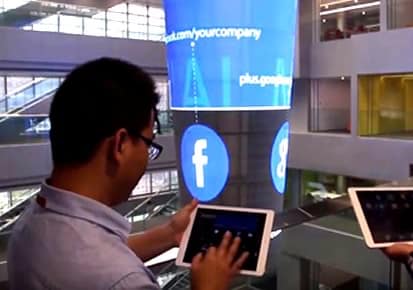 Features of LED Display
Display Size:

The module size of the device is fixed; it just needs to connect the components according to the whole screen size. For outdoor use, LED is the most widely used device in outdoor large screen assembly.

Display Accuracy:

If the display area is small, high-definition cost is high. At present, the LED dot pitch can be up to 1.2mm.

Luminosity:

It is an active light-emitting display device, which can be seen clearly in the case of low brightness, and the brightness can be adjusted by voltage (or current). Generally, it can achieve 6000 lumens or more outdoors.

Contrast:

LED screen is a point source design, for color gamut control, contrast is relatively good

Power consumption:

The LED screen uses a low voltage scan drive, low operating voltage and low power consumption.

Lifetime:

The LED display wall itself is resistant to impact, vibration and has a long life. The theoretical life can be as long as 100,000 hours.

Light Fade:

LED screen is composed of a lot of point light sources, which has good heat dissipation. Compared with the projector, the design of a single LED bulb light source is relatively low.
LED Transparent Curtain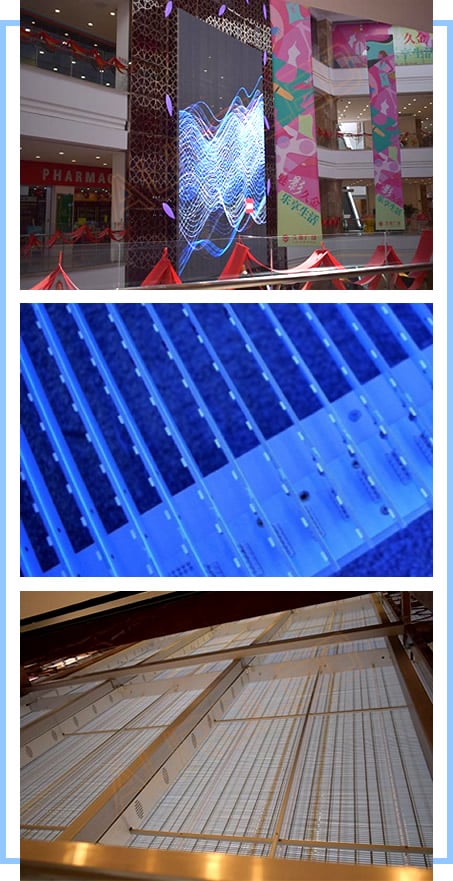 Applications:
Glass wall buildings, shopping centers, auto 4s shop, retail stores, Airports, hotels, chain stores etc.
Advantages:
High transparency:No effect on the lighting and see-through sighting
Slim Design / No Steel Structure:Ultra-slim design, unit weight:12 kg to 15 kg/cabinet, can be directly attached to the original glass wall structure, no additional steel structure. It saves space and installation costs.
Rapid Heat Dissipation:Side-lighting LED encapsulation technology, high transparency, rapid heat dissipation, the difference of entire screen surface temperature and environmental temperature was only about 20% of the traditional SMD LED display.
Modular Design for easy setup and installation:LED screen indoor installation with easy maintenance, and it is safer. Outdoor viewing, with no need for a complex approval process.
Easy maintenance:LED strip with hot-plug design. We only need to replace a single strip instead of big LED model. It can save time and maintenance costs.
Display Effect:160°large viewing angle, 5000~6500 units highlighted, fantastic display, vivid and brilliant picture.
Energy Saving 40%:The world's first side-lighting technology, small volume, high brightness, low-current, saving 30% power compared to conventional SMD screen; Transparent Screen saving 10% power compared to the regular ones, when it displays the customized video, since the LEDs from the transparency section are lighting off.
Benefits to our customers:
01

Creates visual interest and better end customer experience

02

Entices new business, whether through advertising or better ambiance

03

Allows clients to differentiate themselves from their competition

04

Small size makes installation easier

05

Superior longevity avoids frequent replacement