Beijing: Sea Point Exhibits at CAUES Expo 2020
12/08/2020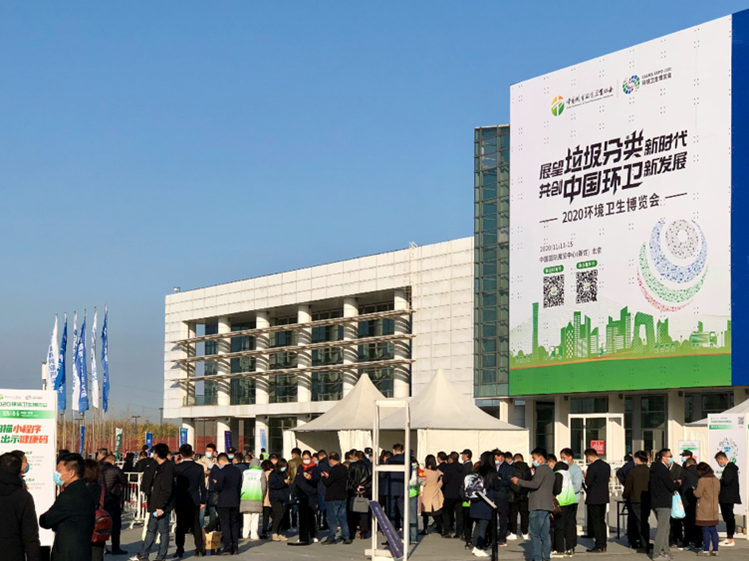 Beijing, China – 16 Nov 2020 | In order to further implement Xi Jinping's new socialist and ecological civilization ideologies in the new era, companies are encouraged to embrace the new concept of green development, promote cooperation between enterprises and institutions in the environmental sanitation industry and further promote the sustainable development of China's sanitation industry.
The 2020 China Association of Urban Environmental Sanitation Annual Meeting and the 2020 China Association of Urban Environmental Sanitation Expo (CAUES Expo) were held in the China International Exhibition Center in Beijing from 13 to 15 November to comprehensively demonstrate the advanced concepts, technologies, equipment and solutions in the field of environmental sanitation. Sea Point, for the first time ever, exhibited at CAUES Expo 2020 with its booth presenting the all-new
Innovative Washroom Management Systems
(IWMS) attracting more than 200 well- known enterprises and practitioners from the industry to visit and experience.
CAUES Expo 2020 welcomed more than 1000 representatives from the competent departments of environmental sanitation, environmental sanitation associations (societies) members, relevant enterprises and universities during the three-day expo. As an exhibitor from the innovation category, Sea Point's booth offered an extraordinary and engaging interactive experience that combined with the actual application of the washroom scene.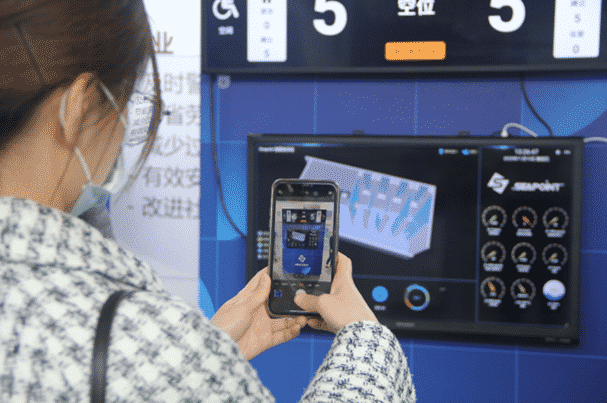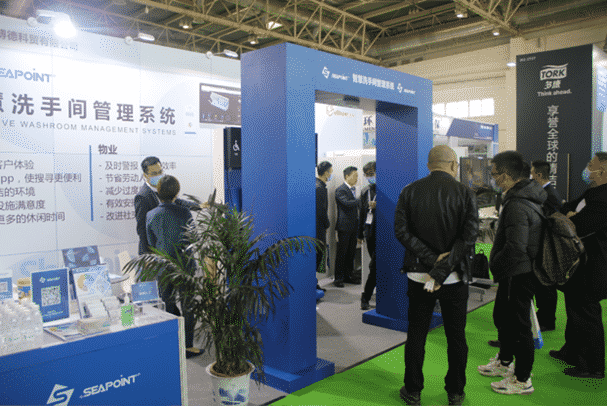 By building a simulated toilet scene at the expo booth, Sea Point best demonstrated how the different modules, i.e. toilet occupancy indicator, door locker, soap dispenser refill alert, tissue container refill alert, odor detector and etc. interact and work effectively in the washroom in order to enhance the customer experience and increase management efficiency. After experiencing the IWMS practical application scenarios and data dashboard, industry leaders and experts from all walks of life commented that Sea Point's innovative solution was the future development direction for the industry. In addition, many mentioned that there should be great potential for Sea Point's solution to be cooperated with traditional sanitation enterprises.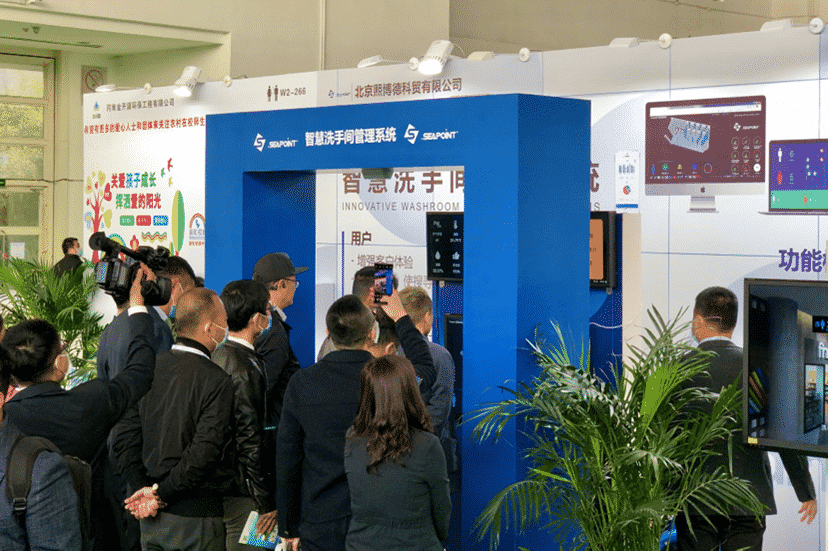 It is worth mentioning that Mr Gao, Director, Public Toilet Construction Management Committee of China Association of Urban Environmental Sanitation visited Sea Point's booth together with a number of experts in the industry. Mr Gao was well received by the representatives from Sea Point's team complemented by a detailed explanation of Sea Point's innovative solutions and its applications. Mr Gao exchanged thoughts and comments with the team and expressed his hope for Sea Point's continued resolution and efforts in providing modern and intelligent high-tech solutions so as to promote the reform of the ecological civilization system and to build a beautiful China.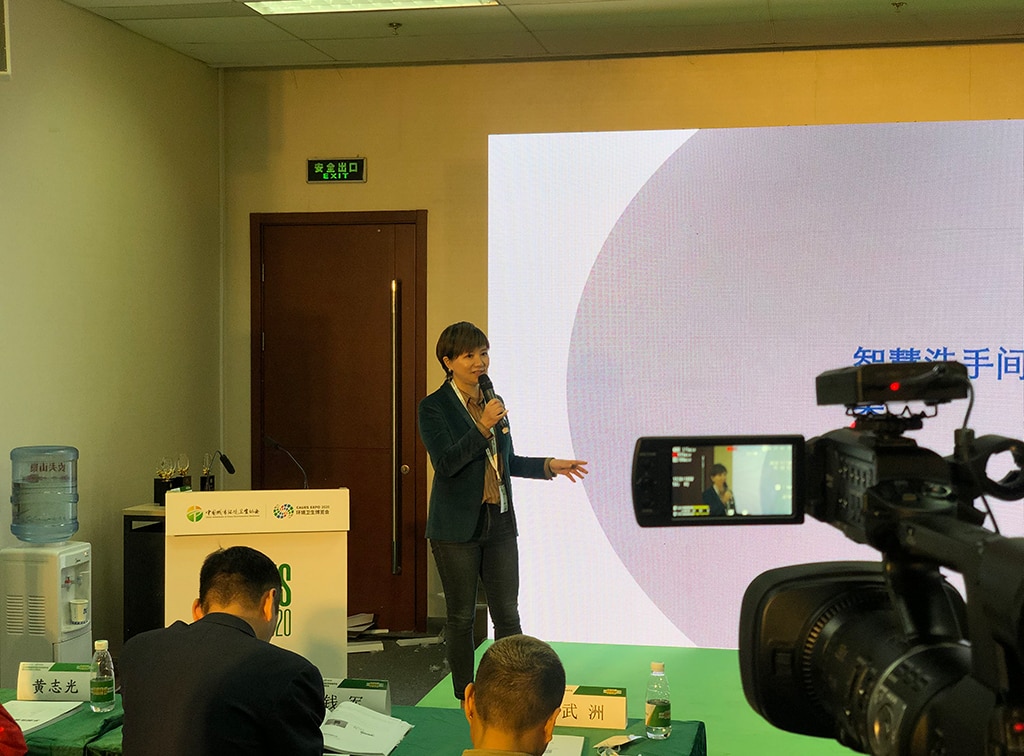 In addition, the highlight of the CAUES Expo - 2020 Environmental Sanitation Industry Development Forum and China Public Toilet Development Forum was held on 14 Nov during the expo. Linda Li, Sales Manager, Sea Point China delivered a keynote speech at the forum and shared experiences on providing tailored and innovative washroom solutions for existing customers from different fields in many cities in China. Linda shared and demonstrated how
Innovative Washroom Management Systems
uses LoRaWAN technology that collects environmental data through terminal sensors, processes edge computing nodes of the IoT, and cloud computing platforms to integrate operation functions for users. The forum also took the form of live broadcast to interact with industry experts and scholars who were not present. Linda's keynote speech received recognition and support of an online audience and industry practitioners at the same time.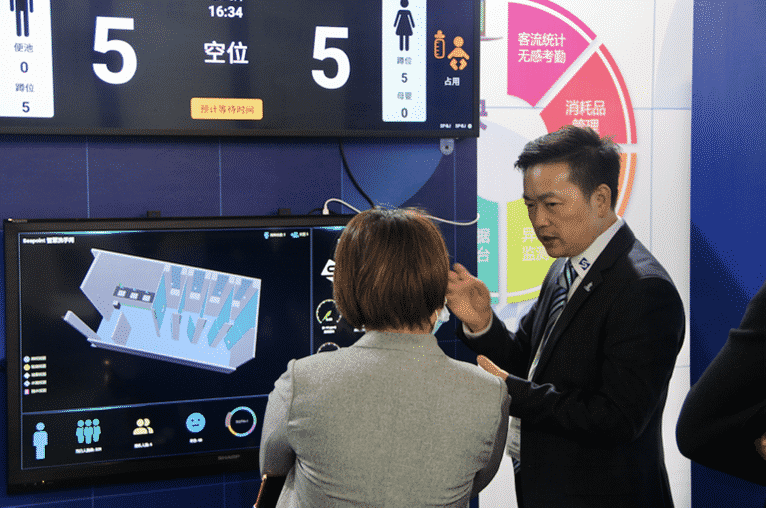 CAUES Expo is an impactful and practical platform that best facilitates interaction and active communication between enterprises and industry leaders. During the three-day exhibition, Sea Point adhered to its business philosophy of continuous learning and innovation. Sea Point not only interacted with existing partners via product presentation and demonstration, but also connected with provincial and municipal government authorities, other exhibitors and potential clients to better understand market needs and to encourage communication and learning from each other.
Richard Zheng, Regional Sales Director, Sea Point China highlighted, "CAUES Expo is indeed an eye-opening experience for us. We will continue to provide customers with high-quality and innovative solutions to increase our brand value. Sea Point China is in line with the vision of China Association of Urban Environmental Sanitation and is committed to continuously create intelligent and innovative solutions, actively cooperate with various government departments and work together with customers and partners to build a better future! 'Toilet Revolution' is on the way. Sea Point cordially welcomes partners from all walks of life to work with us. I firmly believe that our team and many partners are looking forward to meeting here again next year.
ABOUT SEA POINT | Sea Point is a multinational company focused on providing tightly integrated hardware and software solutions and services to the restaurant, hospitality, retail, shopping mall and commercial building industries in Hong Kong, Mainland China, Macau and throughout Southeast Asia.
We are a premier solutions provider of technology services and products – including custom LED displays, video analytics, people counting technologies and restaurant automation. Our clients benefit from our advanced integration services that are customized to their unique requirements and that enable them to improve and grow their businesses. For more information about the types of innovative solutions Sea Point can provide our customers, please visit
seapointcorp.com
.
To be contacted by a Sea Point representative about an innovative technology solution for your business, please complete our
contact us
form.